So what's with the name? 
Simple, really. Chris and I both have children who danced with the Driscoll School of Irish Dance, and Annie teaches Irish dance. Together we sort of made up the DSID "house" band. After our first couple of performances together, we had a few booking inquiries and needed a name. "Jump-2-3" was tossed out and it stuck; appropriate, since it's one of the first moves taught to Irish dancers.
 – Bill
The Players

(in no particular order)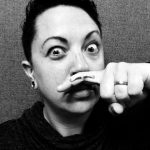 Rae Bowerman
all the drums, vocals
Rachel enjoys piña coladas, walks in the rain, worn out metaphors, and blathering on about themselves in the 3rd person for promotional reasons. They fantasized about being a drummer ever since they stomped a bit too loudly on the kitchen floors as a child…and now they thoroughly enjoy banging loudly on their bodhrán, cajon, and various other percussive toys. They also like to sing and you may find them staging concerns during rush hour or on days ending in "y" somewhere along I-35 in their car with the windows down…and also around Kansas City performing with a diverse assortment of musical friends in venues including Helzberg Hall at The Kauffman Center, The Record Bar, Grace and Holy Trinity Cathedral, The Kansas City Renassaince Festival and more. Their not-so super secret day job for the last 20 years as a sign language interpreter has taken them everywhere from operating rooms to prisons to labor/delivery to sharing a stage with REO Speedwagon. You may also find them playing her Moyo drums for yoga studios, Buddhist practice, meditation groups, and small gatherings of woodland creatures indigenous to the Midwest. The new adventure with their bandmates in Jump 2 3 has already proven fun and frisky with even more craic to come…CHEERS!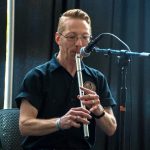 Chris Carr
Chris first picked up a flute at band night in elementary school, and that, as they say, was that. Though his training was classical, it was a chance encounter with Celtic music in Seattle, WA in the mid-nineties that changed the course of his musical career. While he'd always had a gift for the flute, the simple system of the whistles and old wooden flutes proved to be where he found his passion, and he never looked at music the same way again. He focused all his creative energy and leaned on his years of experience with a particular family of instrument to re-learn how to play; the lyrical, ornamental styles of the traditional music of the Celtic Nations required different techniques, different styles, different instruments, and an altogether different approach to music. More than twenty years of immersion in Celtic music has taken him to some remarkable places with some incredible musicians, though his love of the music makes every new venture as exciting as that evening in the Pacific Northwest when he heard his first jigs and reels. Chris plays the wooden flute and whistles of various sizes, and has been known to pick up a bodhran on occasion.
Annie is a classically trained violinist but fiddler at heart. In her family she's the third generation Irish dancer and second generation fiddle player. She's a current competitor and teacher at the Driscoll school of Irish dance, member of the Céilí at the Crossroads Irish Dance Company, in house dancer and fiddler for O'Dowds Little Dublin, and teacher at the Lawerence Arts Center and private violin teacher.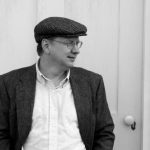 Bill Morris
guitar, bouzouki, vocals
Former member of the celtic bands Emerald Skye and Gabriel's Gate, and a solo performer for many years, Bill Morris has a style that has been compared to American legend James Taylor and Scottish singer Tony Cuffe.
At home in the coffee shops and Celtic festivals in and around his home near Kansas City, Missouri, Bill brings to bear skills in both strumming and finger picking to Celtic and North American traditional music.